On May 3rd, 1955 'Pather Panchali' (Song of the Little Road) premiered at the Museum of Modern Art (MoMA), New York, firmly establishing Satyajit Ray's reputation as one of India's greatest filmmakers.
Be it Feluda, Professor Shonku or the endearing magazine Sandesh – Ray is an artist every kid of every generation must be introduced to. For adults, he brings back memories of an innocent time.
In this post, we discover a sculpture based on one of the most iconic scenes of Pather Panchali : Durga and Apu running through the fields.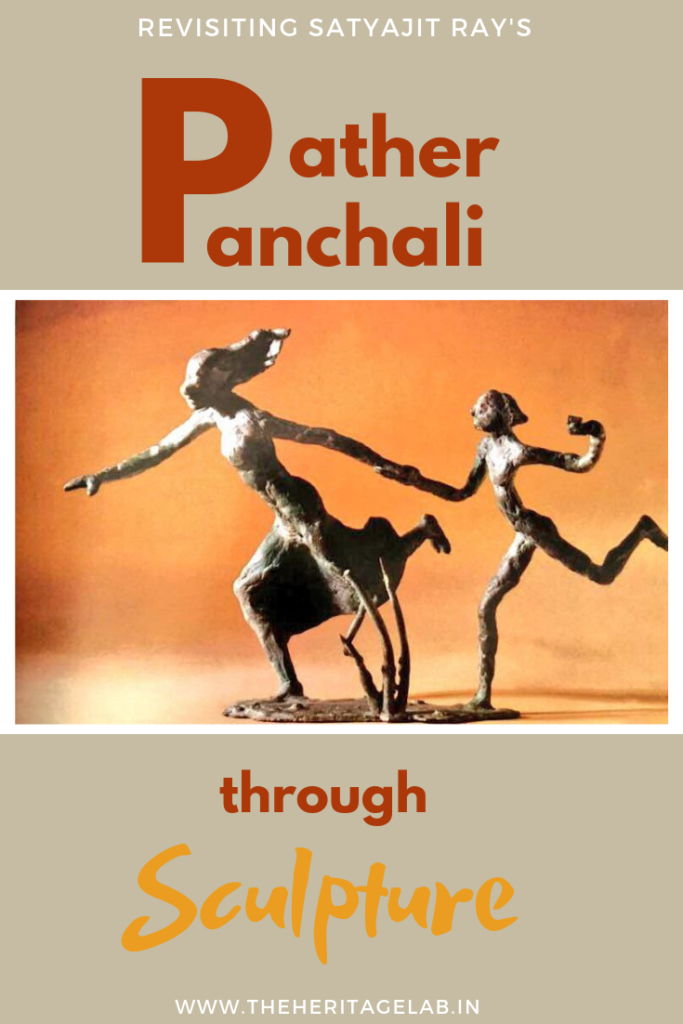 But first, let's take a moment to understand what makes this scene so iconic?
"What do you see?"
Two kids running.
Two kids running towards something.
Two kids running away from something.
The kids share a special bond – best friends perhaps.
This scene, represents the siblings Durga and Apu running through the Kaash fields, in the hope of catching a glimpse of a train. They belong to a poor family from a remote village in Bengal. They had seen the tracks and heard the train's whistle – but never seen what it looks like! Considered to be the most visually stunning scene in the history of Indian cinema, the scene has a certain innocence that no words can describe.
The movie brings out the divide between rural and urban society in post-independent India; the lives of children during the time and their hopes. The kids run towards the train (a sign of modernism) out of a heightened sense of curiosity.
Movement in Art:
Many museum objects depict 'movement' – even though they're completely static! While some works depict action, many are part of a moving-installation; artworks and paintings can also depict movement through the brushstrokes (see Ray's sketch above) or technique involved in their creation.
Engage with this sculpture by artist Prabir Bepari
Be the Art: 
When a sculpture has movement – especially one like this – it can be great fun to mimic! You can also try being part of the scene. It helps you understand the composition, and see where the artist has taken liberties. More than anything, it helps you understand the emotion of the character you're portraying!
How did you feel when you saw something (like a train) for the very first time? Most adults are unable to reimagine the moment – and this sculpture brings back an opportunity to see the train with new eyes.
Imagine: This sculpture transports you into a different world!
As Durga and Apu explore the fields and their natural surroundings, head out with them!
What do you hear around the scene? A train's whistle cutting through the silence of the fields, the wind and the rustle of the grass when two kids are running through it…maybe a couple of animals nearby.
Now see the scene for yourself: How close were you?
Think :
When have you been so curious about something, that you'd give all your physical strength to go check it out? If you're exploring this sculpture with kids, an activity to do is, have them list things they're curious about and have no answers to.
Pather Panchali : Inspiring a generation of artists
The first of a trilogy that became Ray's greatest work; this movie stunned the world and placed India on the international map as far as cinema was concerned. It also influenced viewers deeply.
Martin Scorsese, had this to say about the scene:
I will always remember the scene in Pather Panchali where young Durga and Apu run through the village meadows and notice a train whistling by in the distance.
I was in high school and I happened to see 'Pather Panchali' on television. Dubbed in English. With commercials. It didn't matter. It didn't matter.
Prabir Bepari, the sculptor would have been equally influenced, if not more!
Growing up in Kolkata, the artist Prabir Bepari confesses to always having been fascinated by "movement". Action, energy, and vitality seem to be the hallmark of his craft.
This sculpture is definitely an ode to one of Indian cinema's greatest moments. To capture it in a way it lives forever, (that too in bronze), is the best compliment to this iconic movie. Would you agree?
---