For a wildlife lover visiting a natural history museum is as interesting as it is to go on a safari in a wildlife reserve. In a country like India, where diversity is rich, existence of such museums is a boon. Depicting many facets of the Indian wildlife these museums are established to impart awareness and to make people understand the importance of the environment and its resources. Here are some of the best museums in India that a wildlife lover must visit.
Contributed by : Nidhi Singh
---
The Regional Museum of Natural History in Mysore
The Regional Museum of Natural History in Mysore was initiated in 1995. Located on the bank of Karanji Lake, and with the backdrop of Chamundi hills, the museum provides opportunity to explore nature world with the help of models, translites, AV aids, diorama, and thematic, interactive and participatory exhibits. The museum was established with the vision of making people aware of floral, faunal and geological wealth of the southern region of India; ecological interrelationship among plants and animal and environment related issues. The museum also provides facility for school children on curriculum-based studies in biology and geology with emphasis on environmental aspect. There is a gallery with many sections that deals with Biological Diversity and Life through the Ages. Further plans are to add galleries on Ecology, Conservation and Intangible Natural Heritage.Where: Siddhartha Nagar, Mysore
Visit Timings: 10.00 am to 5.00 pm (Monday and National Holidays Closed)
Rajiv Gandhi Museum of Natural History
Situated about 9kms from Sawai Madhopur in Rajasthan, Rajiv Gandhi Museum of Natural History is another brilliant museum for the wildlife lovers. Recently inaugurated in 2014, this museum is being classified as a vital centre for environmental education and public awareness on conservation of nature and natural resources in the country. It is a three-floor museum that exhibits the flora, fauna, mineral wealth and the geology of the western region and western arid region of India. The museum is established with the aim of providing an understanding of the diversity of life on earth; the factors responsible for their well being; human's dependence upon nature and the obligation to maintain our ecological heritage that remains free from damage and destruction to ensure sustainable development. Short films, tiger head trophies and paintings are the highlights of this museum.Where: Ramsinghpura, Sawaimadhopur
Visit Timings: 10.00 am to 5.00 pm (Monday and National Holidays Closed)
Natural History Museum in Thiruvananthapuram
This two-storied Natural History Museum in Thiruvananthapuram was constructed in 1964. Situated in the vicinity of famed Napier Museum, this natural history museum houses a variety of rich collection of ethnographic items, animal skeletons; stuffed animals as well as birds form part of the country. In the museum the personal collection of General Cullen which includes minerals and books can also be seen. There are several galleries inside the Natural History Museum and each one is exclusively assigned to one specific category of animal kingdom. Therefore one can see individual galleries for Mammals, birds, vertebrates, invertebrates as well as the skeletons. There is also a library and a laboratory in the museum. The in-house Ethnology Gallery provides visitors insight into the races of mankind accompanied by their place of origins, their distribution and distinctive characteristics.
Where: Palayam, ThiruvananthapuramVisit Timings: 10.00 am to 5.00 pm (Tuesday to Sunday) and 10.00 am to 1.00 pm (Wednesday)
Baghel Museum, Bandhavgarh
Located at a short distance from Bandhavgarh National Park, the Baghel Museum is moreover a private collection of Maharaja of Rewa. The museum becoming popular for keeping the belongings of Shikargarh, or a game preserve that wildlife lovers certainly want to discover at Bandhavgarh. Visitors here can witness the stuffed body of the first white tiger, hunting equipments and few military equipments as well.
Where: Bandhavgarh National ParkVisit Timings: 10:00 am to 03:00 pm and 05:00 pm to 08:00 pm (Open all days)
Corbett Museum, Kaladhungi
About 50kms from Ramnagar, Corbett Museum is probably one of the most popular wildlife museums in India. A well kept museum in a laid back settings, Corbett Museum houses belongings of Jim Corbett which include plaques, life size oil paintings, text about Jim and his family and some of his furniture. The museum also preserved articles like gun, cap, bag, fishing net, and manuscripts of the last hunting performed by him. It is a small yet interesting place to learn about one of the earliest wildlife conservationists in India and his change of mind and thereafter his influential work.
Where: KaladhungiVisit Timings: 8.00 am to 6.00 pm (Summer) and 8.00 am to 5.00 pm (Winter)
Kanha Museum, Kanha National Park
Situated near the Kisli Gate of Kanha National Park, Kanha Museum is an apt reflection of the national park's rich wildlife. The museum is the most suited place for the wildlife lovers to get acquainted with the topography and diversity of the park. There are different attributes and activities of the park and the tribal culture of the state of Madhya Pradesh that one can witness here in details.
Where: Kisli Gate, Kanha National ParkVisit Timings: 9.00 am to 6.00 pm
Regional Museum of Natural History, Bhubaneswar
Opened for public in 2004, the Regional Museum of Natural History imparts non-formal education to public about the rich wildlife of India. The museum was set up with the aim to inculcate the awareness about the importance of flora, fauna and conservation of our natural resources. The museum endeavours to put on display the vivacious biodiversity of Orissa, the North East and the Andaman and Nicobar Islands. Depicting the richness of these different regions under one roof, the museum thus makes people aware of the natural heritage of the state as well as the country. The in-house galleries emphasize the conservation of nature and natural resources and depict the ecological interrelationship among plants and animals. There are provisions for visually challenged students, who can feel the exhibits of animals on the premises. The museum also provides extracurricular activities for schools and promotes environmental awareness. A skeleton of Baleen Whale has also been installed in the museum, which is believed to be the largest for any museum in India.
Where: Acharya Vihar, BhubaneshwarVisit Timings: 10.00 am to 5.00 pm (Monday and National Holidays Closed)
Natural History Museum, Bahadurpura (Telangana)
Situated inside Nehru Zoological Park in Bahadurpur, Telangana, the museum is yet another best place for a wildlife lover. It is a perfect place for those who want to explore the many facets of history, especially with regards to animal kingdom. The museum displays stuffed dummies of the extinct as well as the living animals and artifacts that are related with animals. Having a zoological park in the vicinity of the museum is also a thrilling experience, watching the real animal and then a stuffed one and reading about its history is truly an experience that is rare.Where: Bahadurpur, TelanganaVisit Timings: 10.00 am to 5.00 pm (Mon to Fri) and 2.00 pm to 5.00 pm (Sunday)
The Natural History Museum, Chandigarh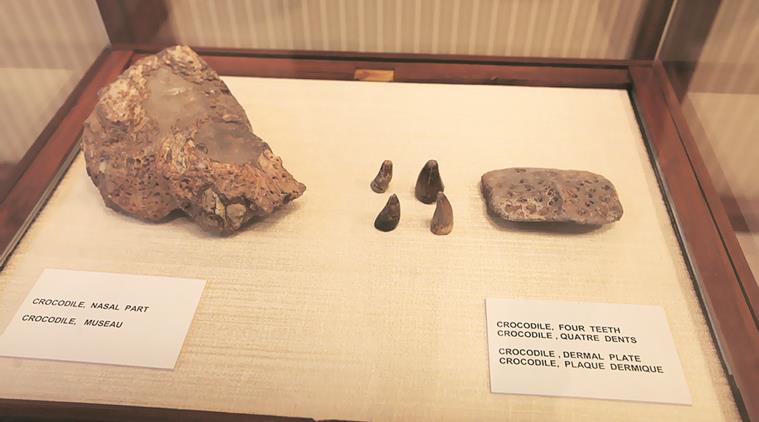 The Natural History Museum in Chandigarh is divided in to five sections. The museum was established with the motive to impart knowledge on the importance of wildlife and the impact of their existence on our lives. This museum features a section on Dinosaurs, which are the extinct animals of the planet. Another section focuses on the Evolution of Man; this part of the museum demonstrates different stages of primate evolution. Yet another section features the evidences and models from the Cyclorama –The Evolution Life, in these part illustrations of the origin of earth, evolution of life from unicellular organism to multicellular plants and animals through the Archeaozoic, Paleaozoic, Permian, Devonian, Triassic, Jurassic, Oligocene, Miocene and Pleistocene periods can be seen. The fourth section has some interesting visuals related to the depiction of nature in art in various mediums. The collection here is in the medium of embroidery art. About 62 items of embroidery deal with the various forms available in Nature. The fifth and final section in the museum is the Manuscript Section, here a large number of evidence are available in text form that emphasize various aspect human and animal evolution.Where: Sector 10, Chandigarh
Visit Timings: 10.00 am to 4.30 pm (Monday and Gazetted Holiday Closed)
Bengal Natural History Museum, Darjeeling
Established in 1915, the Bengal Natural History Museum is one of the oldest in India. The early initiation offered a collection of butterflies and birds of the area, however today, the museum houses huge collection and specimens of varieties of birds with nests and eggs, reptiles and fishes, mammals and insects. All these specimens are real creatures that were captured and preserved. There is a special taxidermy unit in the museum which specializes in curing, staffing and rendering the birds and animals for display in the glass cabinets. The museum has two large sections, one at the ground level and the other at the basement. The first section is that of birds that have specimens like Himalayan Brown Wood Owls, Northern spotted owlet, Northern Brown Fish Owl, pheasants, fly catchers and woodpeckers that are placed in natural settings on the tree branches. There are over 820 specimens of birds belonging to more than 400 species of the area. The other side of the museum one can notice a large collection of birds' eggs. There are about 110 species of eggs, but all are not displayed due to lack of space. A nice collection of nests of various sizes, about 35 out of 76 species of snakes 57 species of fish specimen can be seen here in the museum.Where: 10 mins walk from Chowrasta Mall
Visit Timings: 9.00 am to 5.00 pm (Monday and National Holidays Closed)
---
We hope you liked our list of wildlife museums in India, if you have any suggestions that you would like us to add to this list, do let us know by writing to [email protected]
---

About Nidhi Singh:
From the Lake District, Nainital, Nidhi Singh is a well traveled writer whose love for nature can be seen in her writings. She loves to trek and enjoy nature and portrait photography. Nidhi has covered most of the valleys along the foaming streams of Jammu & Kashmir and aspire to cover all major trekking routes of Ladakh and Uttarakhand. She also takes keen interest in different cultures and traditions of the world and enjoys collecting mementos. With her flair for writing and personal travelling experiences, she offers vividly descriptive write ups.