The 1940s were a turning point in Modern Indian art – the freedom movement in India had gained feverish momentum; the growing communal disharmony in India was pointing to a violent partition with the second World War in the backdrop. The angst spilled onto the canvas of many artists of the time, taking different forms. It is during this period that Bhabesh Chandra Sanyal [B.C Sanyal] a painter and sculptor, rose to prominence, becoming a central figure in the history of modern Indian art.
Sanyal had studied art at the Government College of Art & Craft in Calcutta. You could say that he witnessed the journey of 20th century Indian art : from the time of colonial influenced academic art, to the nationalist art under the Neo-Bengal influence, and the growing modernist movement. His art therefore was the product of his learnings and multiple influences; his interaction with other artists of the time too, had a bearing on his works – yet B.C Sanyal's art stood out as a unique style, not conforming to any regional aesthetic.
Modern Art in Pre-Independence Lahore : influences in B.C Sanyal's art
The Mayo School of Arts in Lahore was a hub of cultural activity and (European-standard) art-education in northern India – a reputation it had gained under the leadership and influence of John Lockwood Kipling during the late 19th century. In the 1930's Samarendranath Gupta (a student of Abanindranath Tagore) was at the helm of affairs at the institution when B.C Sanyal joined it as a teacher. In the city, he came in contact with fellow Indian artists when the 'Punjab Fine Arts & Crafts Society' hosted its exhibitions. These exhibitions invited artists from across the country as a way to encourage a healthy exchange of ideologies and art-trends.
Notice the similar use of vibrant colours, and elongated shape of the human body (no focus on the facial expression).
B.C Sanyal as an Artist, Teacher and Mentor in Lahore
In 1926, the Indian National Congress had commissioned Sanyal to create a sculpture of the nationalist leader, Lala Lajpat Rai. As a 'fee' for his work, Sanyal had been appointed a teacher at the Mayo School of Art. Some of his students there included known names today – Krishen Khanna and Satish Gujral, for instance. However, in 1936, Sanyal quit the School and started out on his own, establishing the 'Lahore School of Fine Arts' in the basement of a college. When his studio/art school grew, it moved into the Regal Cinema Building.
Sanyal networked well with art writers, critics and students; he gained popularity for his teaching and mentor-ship. The exhibitions held by his Lahore School of Fine Arts always attracted appreciation for his students' work. Sanyal's vision of art in everyday things was often evident in his students' art. For example, Sanyal's influence can be seen in his student Damyanti Chowla's colours and affinity to people.
Although Sanyal's paintings were a turning point in Indian Modernism, his role as a mentor was more prominent, as defined by his students' success.
B.C Sanyal: A Refugee Artist in Delhi
In the wake of the Partition, many artists including B.C Sanyal migrated from the riot-hit Lahore to Delhi. These artists joined Delhi's All India Fine Arts & Crafts Society [AIFACS], but their motivations to experiment, create new styles, and work with new mediums clashed with the traditional 'Bengal School'-inspired model of the AIFACS.
This is when Sanyal chose to breakaway, and set up a "refugee studio" at 26 Gole Market. Once again, Sanyal accepted pupils and continued his passion for shaping art education.
The squalor of a market place, the stench from the neighbouring fish and poultry shops, the operational noise of the next door tailor master's sewing machine…..all added up to the milieu and atmosphere which I felt was congenial to a destitute refugee artist.

B.C Sanyal
During the 1940s, Indian art also witnessed a rising trend of "groups" or "collectives". The Calcutta Group formed in 1943 included Pradosh Dasgupta, Paritosh Sen, Rabin Mandal and others; in Bombay (Mumbai) M.F Husain and S.H Raza, were among some of the artists that formed the influential Progressive Artist Group in 1947.
In Delhi, Sanyal along with K.S Kulkarni and other artists founded the Delhi Shilpi Chakra in 1949. As it slowly gained fame, artists such as Pran Nath Mago, Rathna Mathur, and Amarnanth Sehgal joined the group. Their aim was to make art accessible to the masses. Towards this vision, they regularly held exhibitions in the non-arty neighbourhoods like Karol Bagh, Chandni Chowk and in the Kamla Nagar / Civil Lines localities.
With regular exhibitions and cultural events, the group played a vital role in cultivating Delhi's post-Independence cultural fabric.
B.C Sanyal's Style and Themes
While most of Sanyal's renowned contemporaries such as Nandalal Bose, Mukul Dey and M.F Hussain created art thematically and stylistically linked to mythology and naturalism, his paintings avoided extravagance and folklore. His flat and bright colours and peaceful compositions were a mix of post-Impressionism, Abstraction, as well as the Bengal School. He used this to depict the human condition and everyday life's struggles. Looking at his painting, one can immediately spot the use of colours that were were primary, fresh and vibrant. In some paintings, Sanyal portrayed snippets of locations not witnessed before in art. Take a look at the paintings below :
Market Scene
At the Fair, 1945
Nizamuddin Fair
In this painting, Sanyal depicts the neighbourhood of Nizamuddin in Delhi.
Refugee Family, 1948
After the partition, Sanyal witnessed many displaced communities and their struggles. This painting deviates from his usual colour palette with sombre brown, white, and blue to create a feeling of sadness. While the subjects do not meet the gaze of the viewer, Sanyal tries to evoke empathy through this distance.
Woman and Bird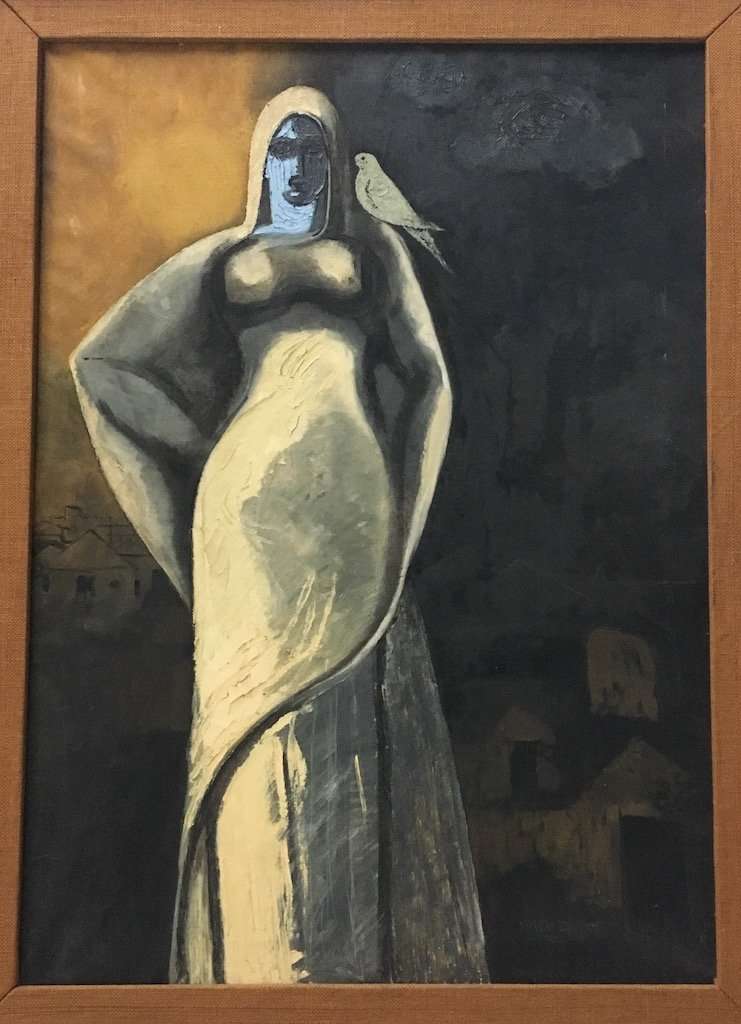 The division between daylight and darkness in this painting, hint towards India's freedom from the British Rule while being partitioned at the same time.
Some popular works by B.C Sanyal
Vertical Woman
In his most well known sculpture 'Vertical Woman', Sanyal created a semi-veiled female figure out of Dholepur sandstone. This was to portray a memory of his mother (a doll-maker, he was inspired by her). He published a memoir by the same name, describing his life's artistic, emotional, and personal experiences. This sculpture draws resemblance to his painting 'Woman with Bird' (1964-65) and is also in the collection of the Govt. Museum & Art Gallery Chandigarh.
Farmer in the Field
This painting shows a rural Indian scene with a farmer, his cattle, and his field. In this painting, Sanyal's awareness and keen interest in India's economic development might be reflected. In 1965, The Indian Government commenced the Green Revolution to increase food grain production. The role of farmers and agriculture became extremely important as new methods were adopted for better crop yield. It is possible that Sanyal's exposure to Punjab, where the revolution for modern farming was first introduced, resulted in this painting. As Sanyal's art focused on bringing exposure to Independent India's pursuits this may have been a documentation of traditional Indian ways of agriculture before they became modern.
Scare Crow and The Peasant Woman
With regular exhibitions, interactions, and talks in visual art and literature, B.C Sanyal left an impression on many individuals in the creative field. His works had the same effect, exhibiting his sensitivity and clear sense of direction amidst the chaos that ensued around him. B.C Sanyal died at the age of 101, in 2003.
A life that spanned over the evolution that was modern to contemporary art in India, B.C Sanyal's memory, contributions, and legacy remain substantial.
Research Credit : Ujjawal Chathle
---
Enjoyed reading? Don't forget to spread the love for art!