In the chaos of Agra and its many bridges, one could easily miss this elegant pavilion on the riverbank. As one drives on, an exquisite white marble construction stands out in contrast to the blushing sandstone of the pavilion. A large gateway looms in the background.
You have just caught a glimpse of the tomb of Itimad-ud-Daulah
This tomb represents a Mughal-period Agra which has since moved away from the river as its main highway, and grown into an exhausting, noisy town. Although plaster work and decoration is peeling, and restoration is clumsy in places, it is easy to imagine the splendour of the tomb when it was built, with lush and fragrant gardens, and sprightly fountains.
Who was Itimad-ud-Daulah?
I'timad-ud-Daulah (meaning, Pillar of the State) was the honorific title given to Mirza Ghiyas Beg, an important Mughal courtier in the court of Akbar and Jahangir. He was an Iranian noble who had fled his homeland to escape religious persecution. With an infant Mehr un-Nissa (more famously known as Nur Jahan, wife of Emperor Jahangir) in tow, he reached Akbar's court in Fatehpur Sikri looking for protection and employment. Ghiyas Beg rose in administrative ranks, and when Jahangir ascended the throne, he was awarded the title I'timad-ud-Daulah.
Nur Jahan's Gift for her father
When her father passed away, Nur Jahan constructed a tomb for him in Agra. Built on a platform in his own garden, it was completed in 1628, becoming the first ever tomb to be built on the banks of the Yamuna.
While grand tombs have been frowned upon in conservative Islam, the Mughals, with their Central Asian heritage, had the insight that funerary monuments are an articulation of power, prestige, and leave behind a lasting legacy. Nur Jahan built her father a graceful garden tomb, which brought together elements of piety, opulence, and reiterated her glorious lineage. Her mother, Asmat Begum, and daughter, Ladli Begum (from her marriage to Sher Afghan) are also buried here.
A Powerful Family Bloc
Much has been said about Nur Jahan and her family, who rose in power and prestige in the Mughal court. We've already seen how the prestigious position occupied by her father, Ghiyas Beg. Not only that, her first husband was a high ranking general in the Mughal army, her brother was also in the service of the Mughals, and her niece (Mumtaz Mahal) would go on to marry Shah Jahan. Members of the family formed a close power bloc, with an oft-inebriated Jahangir at the centre. This gave Nur Jahan the role of a co-ruler- the true empress of a vast and rich empire.
Among other things, Nur Jahan took an interest in architecture and was a prolific planner as well as a sponsor of several important buildings. It is important to note that she wasn't the only woman to do so. Other Mughal women like Hamida Banu, Marayam al-Zamani, Jahan Ara, and Mumtaz Mahal were all independently wealthy, and spent considerable time and money designing and building monuments— gardens, caravanserais, mosques, stepwells, as well as tombs.
Itimad-ud-Daulah Tomb: An Architectural Gem
Itimad-ud-Daula's tomb is set on a sandstone platform, in the centre of a chahar-bagh. This trope of a four-fold garden, with water channels and fountains, symbolising the garden of paradise, is fairly common in Mughal architecture. Indeed, most great tombs will invoke paradise, or jannat, as a resting place until the day of judgement. The dome roof takes its shape from the catafalque of Shaykh Muhammad Ghauth's Gwalior mausoleum, with marble replacing the wooden canopy— perhaps bringing an added allusion to piety.
The four corners of the structure have chattris (canopies) atop round turret-like structures, with the square pavilion in the centre. The rooms in the centre are connected to each other in a nine-fold plan, and connect with each other.
Jali or screens are skilfully juxtaposed with polychrome stonework and inlay, fostering a dramatic play of light. Ochre, and black on white are used to a great effect, creating geometric patterns of interlocked stars (some with twelve points), and other geometric abstractions, accentuated by natural designs on fossilised stones. Arabesque vegetal patters frame dados of mathematical and lozenge-shaped patterns of great diversity, making a walk around the tomb a math puzzle as well as a visual treat. Since the background is white marble, the colours stand out, and despite profusion of stone, the decoration feels light and delicate.
Niches are decorated with floral motifs, trees, and pots, all of which are highly stylised, and are in a conversation with the geometric motifs of the inlay work. Cartouches on windows combine swirls and stalks, with elegant floral motifs and lobed frames.
In the decorative programme, calligraphy finds a spot, which is to be expected at a tomb. The decoration is not just to please the eye— epigraphy and geometry are both sacred, the inclusion of cypress trees and lush foliage, eternally cover the graves.
#DidYouKnow : you can find the name of the tomb's calligrapher, 'Abd al-Nabi al-Qarshi on an inscription panel of the south-west corner tower along with the date 37 AH [i.e.1626-1627 AD]
Click To Tweet
Noted historian, Ebba Koch, points out how the tomb anticipates the development of Shah Jahani architecture, with its vaulted central chambers, networks of rooms leading from one to the other, the covered verandahs, use of marble cladding, delicate ornamentation and the finesse of inlay work. Judging by this, to call the tomb "Baby Taj" (as it is sometimes called) is rather ironic— it seems to be a precursor to the monument, rather than a miniature offspring.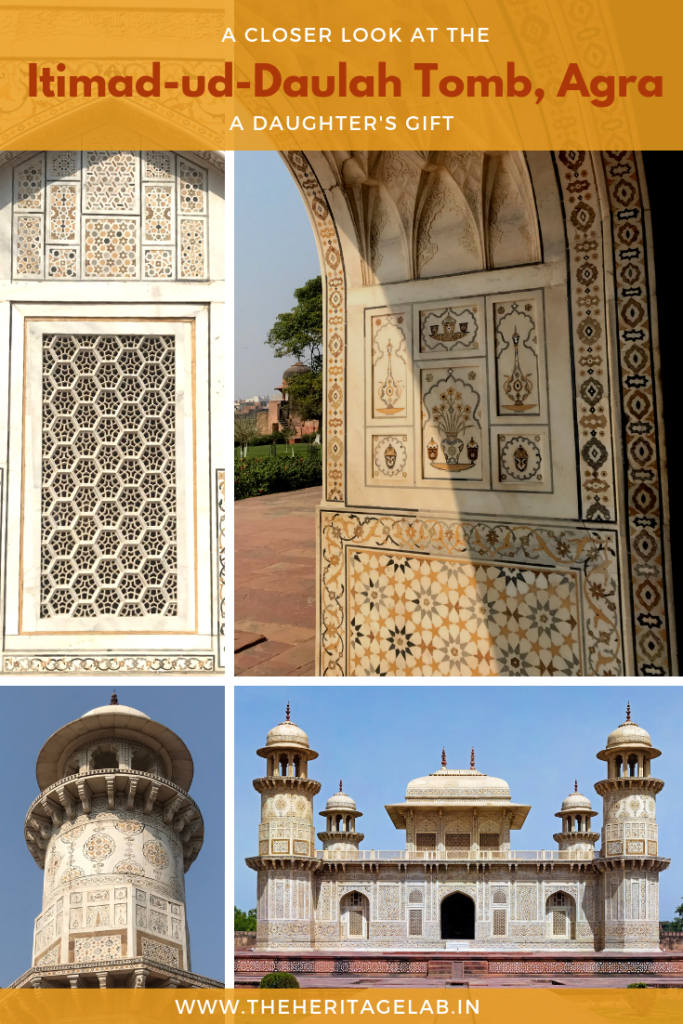 ---
All images, unless otherwise stated, are provided by the author and may not be reproduced without permission.
For Women's History Month, the Heritage Lab in collaboration with Jaypore and Aleph Books celebrates women at the Mughal court. Despite being highly educated and powerful, the contributions of #TheseMughalWomen remain under-represented in history. As part of this campaign, we invite readers, researchers, bloggers to share their encounters with #TheseMughalWomen.
Discover stories and media from the Campaign and find out how you can participate.
Processing…
Look out for our News-Letter every week!
Whoops! There was an error and we couldn't process your subscription. Please reload the page and try again.