Pondicherry is best explored and experienced on foot or by cycle. The gorgeous yellow and purple buildings in the White Town make for great photographs as do the ornate windows and doors. But there's more to these buildings, and this post is precisely about the hidden stories of Pondicherry.
We created an interactive DIY Heritage Tour (scroll till the end) for you !
While its easier to follow the sequence mentioned, you can always make your own! It's the stories that are important as chances are that nobody would tell you about these – unless you're taking a guided tour.
If you're a Roald Dahl fan, you'd recall the part where Grandpa Joe narrates the story of Prince Pondicherry who wrote to Willy Wonka, asking him to travel all the way to India and build a palace of chocolate! This Palace, as Wonka predicted, melted, but all the other architectural wonders in the town have stayed – some of it restored, and some under restoration; but the iconic Marie (French for town hall) building wasn't as lucky and was destroyed in the Tsunami of 2014.
Pondicherry is a post-colonial city, where the remnants of its past continue to thrive with urban planning and modernisation. The city is still divided into two significant parts by a Canal (try spotting it on the map) : The French Quarter and the Tamil Quarter. The colonial influence has impacted the culture of the place such that to a visitor, its really about one's own interpretations.
"Designed by the Dutch, coveted by the English, built by the French; engaged in trading with Rome – in this coastal town, glimpses of Mediterranean Europe linger. The French connection is strongest which collides with Indian sensibilities to create a concoction that is uniquely Pondicherry" – CNN Traveller
Pondicherry, the Union Territory consists of 4 unconnected districts : Karaikal, Mahe, Yanam and Puducherry. While Puducherry and Karaikal are parts of Tamil Nadu, Yanam and Mahe are enclaves of Andhra and Kerala respectively.
Explore Pondicherry
The interactive walk highlights 22 iconic points and their stories, but here are our favourite 5 digs!
Dupleix's Columns at the Gandhi Statue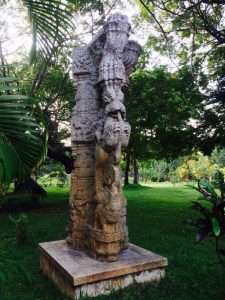 These sculptured monolithic pillars are supposed to have been brought from Senji at Dupleix's time; originally they were 168 in number; many were probably used to repair the fortifications at the end of the 18th century; in 1820, the engineer Spinasse, while considering the construction of a fountain in the middle of the Place d'Armes (Bharati Park) thought of using 20 pillars only; in 1870, Dupleix statue was erected on 4 of them and 12 were used around the Place deNapoleon III, rechristened as Place de la République, where Gandhi Statue was erected on 26 January 1965. It is today called Gandhi Tidal. The columns used for Dupleix's statue are now scattered in Bharati Park.
Le Cafe
This was a favourite because it was 24×7, plus its great to see how an old port-turned-customs house-turned cafe has come to be.
Ecole Francaiçe d'Extreme-Orient
This is where you should head if you're interested in researching about all things Indian. Trace Pondicherry's origins here and check out their site which has a repository of old photos!
Ayi Mandapam
The legend of Ayi Mandapam goes this way: Long ago, the King Krishna Rayar and his minister Appaji Iyer set out from Rayavellore for a routine inspection of the southern part of his country at Villvanallur. Having heard that there was one Uyyakonda Viswaraya Mudaliar at Uzhavarkarai with phenomenal outgrowth on his body, hair on the soles of his feet, they went to see him. When they returned at dusk via Muthirapalayam, they noticed fragrant scents and lighted lamps from a fine mansion that belonged to the harlot, "Ayi". Thinking it to be a temple, they worshipped it with folded hands. However, when some onlookers informed them that it was the house of a harlot, they were stricken with remorse and very angry. The King then decided that the mansion be destroyed and a tank / well be constructed in its place. On hearing this, Ayi fell to his feet and obtained permission to get the good deed done from her own money and accordingly had a well dug up there. Years later, when Emperor Napoleon III's men dug up wells around the city for water supply, they realised all water was salty, except the one that came from Ayi's tank. The Emperor's architect, Monsieur Lamairesse then built a 5km tunnel from her tank to a park in the French part of the town. In appreciation of Ayi's efforts, King Napoleon III ordered a monument to be built in her honour.
Today, Ayi's Mandapam is flanked by important buildings like the French consulate, the Secretariat and the Governor's House. Built in Greco-Roman style, it is located at the center of a circular park. On top of the monument is a French fleur-de-lis.A stone plaque written in traditional Tamil and Latin, pays tribute to Aayi's deed and thanks her for providing water for the people of the town.
The Museum
It is highly recommended that you visit the museum, for its storytelling ability and the careful display of objects. One can easily spend a couple of hours here, understanding stories of Burial Urns, Roman wine-cups, French Transport, Chola Bronzes and what not!
Note: This post covers only the White Town.
If you dig up any stories or places we might have missed – please do shout out, and we'll be happy to add it to the walk!
#DidYouKnow:
The State Animal : Squirrel
The State Bird: Koel
The State Tree: Bael Fruit Tree
The State Flower: Cannonball Tree Flower