Republic Day is India's greatest National celebration.  Even though January 26 would be a holiday, we would wake up early to watch the Parade on TV.  So imagine my surprise when a mere 4 kids in class out of 25 held up their hands in affirming they've done the same.  My favourite part of this celebration is watching the State Tableaus that celebrate India. They are a glimpse into our rich heritage which can leave you so inspired!
These 10 Republic Day Tableaus showcase India's diversity and celebrate her heritage and culture.
Did you know, that each State / UT submits their tableau-design to the Ministry of Defence for approval? They may or may not get selected, so it is a big deal to choose an element of your State's culture. Several ministries also showcase government policies through their tableaus. For now, take a sneak peak into the culture of these 10 states that represent the religious, cultural, natural, craft, musical and architectural heritage of India.
Activity Suggestion : Cultural Learning for the Family – You can take a print of these 10 images (or more from the internet) and play a Memory-Match game at home.
1. Subah-E-Banaras : The Tableau of Uttar Pradesh (2014)
One of the oldest living cities in the world, Varanasi is situated on the western bank of the River Ganga in Uttar Pradesh. Every morning, the city wakes up by offering prayers to the holy river, and sleeps after the evening prayers have been offered. The Assi Ghat is known for the "Subah-e-Banaras", that starts with the chanting of vedic prayers and ends with a Yoga session. One has to experience Benaras, at least once in a lifetime! This Republic Day tableau showcased Varanasi as a hub for saints, philosophers and artists.
2. Ellora Caves: Tableau of Maharashtra (2012)
The grandeur of Ellora, one the world's largest rock-cut cave temple complexes is depicted with a Nataraja in this tableau. The Ellora Caves, estimated to be built between the 5th-7th century are the result of Hindu-Jain-Buddhist monks' experiments. A highlight of the cave is Nataraja, the God of Dance (and a form of Shiva) and there's so much you can learn about the performing traditions of India by just looking at the different moods depicted.
3. Sangat and Pangat : Tableau of Punjab (2018)
The concept of 'Sangat and Pangat' according to Sikh traditions is known to promote the one-ness of humanity and communal harmony. The tableau showcases the simple way in which a Sangat (congregation of people) sits together irrespective of the boundaries of caste, creed, colour, religion – in a 'Pangat' (a row), signifying equality.  The tableau also portrays a "Langar" – a community kitchen run at all Gurudwaras in Punjab through the voluntary efforts of people, sending across the message of service for humankind.
If you're still waiting to eat at a Langar, head to Punjab !
4. Sultanpur Bird Sanctuary : Tableau of Haryana (2015)
Showcasing the natural heritage of the region, this tableau highlighted the bird-paradise of Sultanpur which is home to around 250 species. Each year 100+ migratory birds flock to Sultanpur from cold regions like Siberia, Europe and Central Asia and rest here from September to March.
5. Kodagu, the Coffee Heaven : Tableau of Karnataka (2016)
Did you know, Karnataka is India's largest coffee producer accounting for 70% of the total production! This tableau shows the journey of Coffee from the hill to the cup, and is a reminder to our coffee-history! When India gained independence in 1947, the British planters sold their estates to Kodavas, the earliest inhabitants and agriculturists in Kodagu, and other South Indians.  You can also see Kodava women in their regional dress, performing their traditional dance.  If you're a coffee fan, then a visit to Karnataka and Coorg's plantations is a must!
6. Bhortal Dance : Tableau of Assam (2012)
A number of classical and folk dances are performed in Assam.  Bhortal Nritya is one of the most popular dances performed by a group of 6-7 people on fast beats during  Bihu and other festivals.
7. Life in Kutch : Tableau of Gujarat (2017)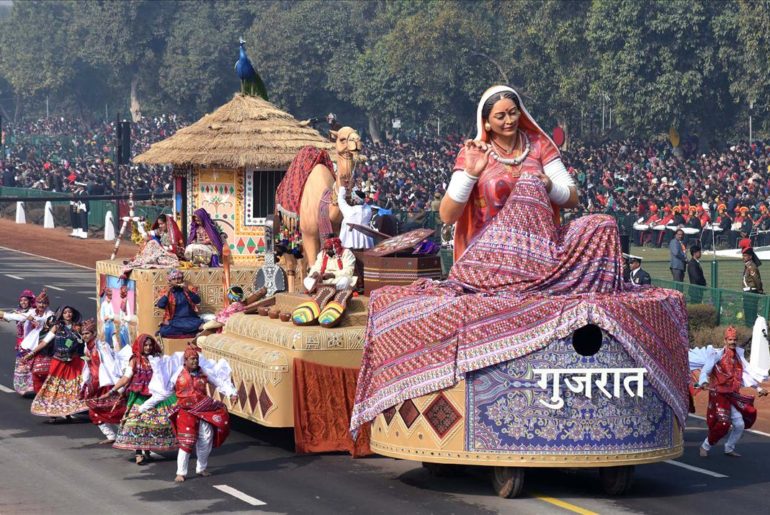 Known for its art and lifestyle, the Gujarat Tableau was a tribute to Kutch and it's craft heritage.  An estimated 16 types of embroidery are practiced in the region and the tableau showcased some of them like Dabda embroidery. During the Kutch festival, the crafts of the place come alive with artisans and craftspeople directly interacting with people. If you love Indian textiles and crafts, Kutch is the place to be!
8. Musical Heritage : Tableau of Goa (2017)
The tableau from this erstwhile Portuguese colony was a tribute to its musical heritage. The music of Goa has been influenced by various communities – Konkani, Hindu and even Portugese (instruments like Mandolin, Piano, Violin were introduced by them)!  The next time you visit Goa, be sure to get a taste of local music!
9. Planned Architectural Heritage : Tableau of Chandigarh (2016)
The Chandigarh Tableau is a glimpse into how a city's urban planning and architecture impacts the lifestyle of its people. Designed by French Architect Le Corbusier the new city was meant to sooth people after the trauma of the partition. In this tableau you can see people practicing a healthy lifestyle because urban planning allows for public access to parks, etc.
10. Sankranti Sambaralu : Tableau of Andhra Pradesh (2015)
This tableau focused on the festive spirit of Sankranti (Harvest Festival). The celebrations start with people lighting bonfires for Bhogi (what we know as Lohri in North India). Streets are decorated with colourful Rangolis using rice four and in the middle cow-dung balls with flowers are placed, around which young girls sing and dance.
Cover Image : The tableau of Central Public Works Department (CPWD) showing 60 Years of India's Independence at Rajpath during the Republic Day Parade – 2008, in New Delhi on January 26, 2008.
---
India's heritage includes a colourful mix of festivals, music, dance, architecture, living traditions, and many birds and animals. Each Republic Day, therefore is a chance to learn about so much more than we have experienced, and bucket-list those that we are yet to!
Browse through / Share  our Republic Day Series: 
The First Republic Day of India [with Activity Suggestions] + Bonus Download 
Republic of Art: The Constitution as an Illustrated History of India
Nandalal Bose : the Man who illustrated the Constitution of India [ includes Art Activity Sheet]
---
Have something to say? Write to us at [email protected]
You can also follow us on Facebook and Instagram!