The Irish-born educationist, author, social activist and thinker, Margaret Elizabeth Noble (1867-1911), a.k.a Sister Nivedita, was a significant contributor to the field of women's education and empowerment; promoted science and art, but most of all, she is remembered for awakening national consciousness amidst the people of India. To introduce her in a line, and highlight her contribution to India, it would be fair to use Abanindranath Tagore's words:
"Amongst the foreigners who really loved India, Nivedita's place is the highest."
Sister Nivedita not only endorsed, encouraged and appreciated Indian Art but plunged herself into the whirlwind of discovering and reconstructing Indianness in Indian Art, thus making art an essential tool in awakening and invigorating the national consciousness of India.
Becoming 'Sister Nivedita'
In November 1895, when she was only 28 years old, Margaret Noble met Swami Vivekananda for the first time. While she, inspired by his speech, saw a 'Guru' in him; he in turn recognized her intellect, her universal mindset, and potential to be the bridge between people from different social pathways. She arrived in India in the late nineteenth century at the age of thirty, and under the guidance of Vivekananda, took on a new path with a new identity: Sister Nivedita, the dedicated one.
Art as a tool for building national consciousness
For Sister Nivedita, national consciousness was about awakening & pride in all spheres – science, history, art, religion, literature – promoting the finest minds across industry was her approach to nation building. She thus shaped the discourse on nationalism, through engaging with people, recognizing their potential and enabling them.
She felt deeply concerned about the western view that Indian art was influenced by Hellenic art, and thus not original. In a bid to challenge this prejudiced opinion, Nivedita, together with Ananda Coomaraswamy and E.B Havell, led the movement to revive Indian art.
The concept of Art as a signifier of national and civic identity appealed to Sister Nivedita as early as 1880. She was inspired by the art and craft movement in Britain that sought to preserve the traditional and indigenous artistry of the common people in the wake of industrialisation. When she arrived in India (which was a British colony), empathy for the culturally and intellectually colonised came naturally, and later reflected in her works and words.
Never lower your flag to a foreigner. Try to be the greatest authority in the particular branch of research that you have chosen for yourself. India must be recognised as the first here

Sister Nivedita to Sir Jadunath Sarcar (a prominent Indian historian)
She had learnt from Swami Vivekananda the inmost and intricate specialities of Indian art to which the Indian artists and art critics of the time were hardly aware. We may infer that Sister Nivedita made E. B. Havell, Abanindranath Tagore and Ananda Coomaraswamy understand her special vision of Indian aesthetics and the philosophy of art which she imbibed from her Master (Swami Vivekananda). She believed that the rebirth of "indianness" in art was essential for the reawakening of the motherland, and held prolonged discussions and active interactions with the young students about the same.
Contribution to Indian art history
Sister Nivedita's role in Indian art history, has been understated & overlooked for the longest time. In a country "full, full, full of artistic talent" she tried to send a clear message to Indian art students to desist from the existing practice of aping the Western art and strived hard to elaborate and establish the idea of Indian art with its indigenous roots as the binding force.
Sister Nivedita and the Bengal School of Art
The Bengal School of Art under the mentorship of Abanindranath Tagore began as an avant garde and nationalist art movement in the early twentieth century. The vision was to look towards the 'east' or the traditional art of India for inspiration and with a conscious attempt to move away from the imitative style of Western art. Distinguished practitioners of the Bengal school such as, Nandalal Bose, Asit Kumar Haldar, Surendranath Ganguly, K. Venkatappa, Samarendranath Gupta, Kshitindranath Majumdar, Mukul Dey, etc. were mentored and supported by art luminaries like E. B. Havell, Ananda Coomaraswamy, Gaganendranath Tagore, O. C. Ganguly, Sir John Woodroffe, Kakuzo Okakura, Yokohama Taikan, and others. They were also mentored by Sister Nivedita, who took great interest in the work of the young group of artists, encouraging them to exhibit their paintings and pointing out to them what she perceived to be their artistic flaws. Thus, Sister Nivedita remained the vibrant centre of this art movement.
In 1909, on the request of a visiting artist (Christiana Herringham), Sister Nivedita convinced Abanindranath Tagore to send his students to the caves of Ajanta to copy it's frescoes. It was her way of igniting respect for "Indian" art (which had largely been forgotten) within the young students and believed these could influence their art in future. It could also be looked upon as her way to "save art" by documenting it. Sister Nivedita personally met their expenses of boarding and lodging and even visited them during the assignment. Later in their professional careers, these artists (Nandalal Bose, Asit Kumar Haldar and others) would be greatly benefitted by this decision.
It is widely believed that Sister Nivedita was the inspiration behind Abanindranath Tagore's iconic art work, 'Bharat Mata'.
About the painting, here's what she said:
"From beginning to end, the picture is an appeal, in the Indian language, to the Indian heart. It is the first great masterpiece in a new style. I would reprint- it, if I could, by tens of thousands, and scatter it broadcast over the land, till there was not a peasant's cottage, or a craftman's hut, between Kedar Nath and Cape Comorin, that had not this presentment of Bharat-Mata somewhere on its walls. Over and over again, as one looks into its qualities, one is struck by the purity and delicacy of the personality portrayed"
The pen was mightier…
Apart from encouraging novice artists, Sister Nivedita worked on the promotion of Indian art by contributing several essays to various magazines and periodicals. Sri Ramananda Chattopadhyaya, the editor of The Modern Review, who became the chief exponent of the art movement (he regularly published illustrations by young artists of the Bengal school to promote them) acknowledged that it was Sister Nivedita who opened his eyes to the brilliance of local Indian painting. She was his chief advisor, and without her guidance, he wouldn't have been able to take Indian artwork to the public. Nivedita was always eager to critique and revise history, ethnography, the arts – all in a bid to advance, inspire, promote India's culture. This was her way of serving the nation.
Her major works include: Kali the Mother, The Web of Indian Life, Cradle Tales of Hinduism, Myths and Legends of the Hindus and Buddhists, The Master as I Saw Him, Notes of Some Wanderings with the Swami Vivekananda, etc.
Sister Nivedita's contribution to other aspects of Nation-building
Sister Nivedita had a multi-dimensional personality. She worked hard for the welfare of Indian people and for the education and empowerment of women. She even introduced newer ideas on art, handicrafts and drawing in the academic curriculum.
She was pivotal in organizing the 1905 anti-partition movement and gave herself to the Swadeshi Movement completely. She even designed an Indian Flag to take to rallies – which was embroidered by her students.
She actively participated in the Indian Nationalist struggle. She did not believe that non-cooperation and passive resistance could be the sole means to achieve independence. Therefore, she supported Sri Aurobindo's concept of aggressive nationalism. Bipin Chandra Pal, the extremist leader was her friend and she regularly contributed articles to his newspaper New India.
As part of her mission to promote the finest minds of India, she financially supported the research work of the well-known scientist Sir Jagdish Chandra Bose and helped take his work to a global audience.
She even helped edit his manuscripts, and wrote about him in numerous journals and magazines, thus attracting the attention he merited.
In October 1911, Sister Nivedita visited Darjeeling with J.C Bose and his wife. Here, she was hit by a fatal bout of blood-dysentery and breathed her last on October 13. Her funeral rites were performed according to Hindu tradition. In her memory a cenotaph was raised at the cremation spot in Darjeeling with a single sentence that summarises her her life:
'Here reposes Sister Nivedita who gave her all to India.'
Remembering Sister Nivedita : Legacy
A neglected memorial
The memorial, erected in 1925 is in a dilapidated condition with weeds and undergrowth having taken over due to lack of maintenance and historical awareness.
A Bridge
Nivedita Setu, a bridge over the Hoogly river connecting Howrah and Kolkata is named after her.
A Stamp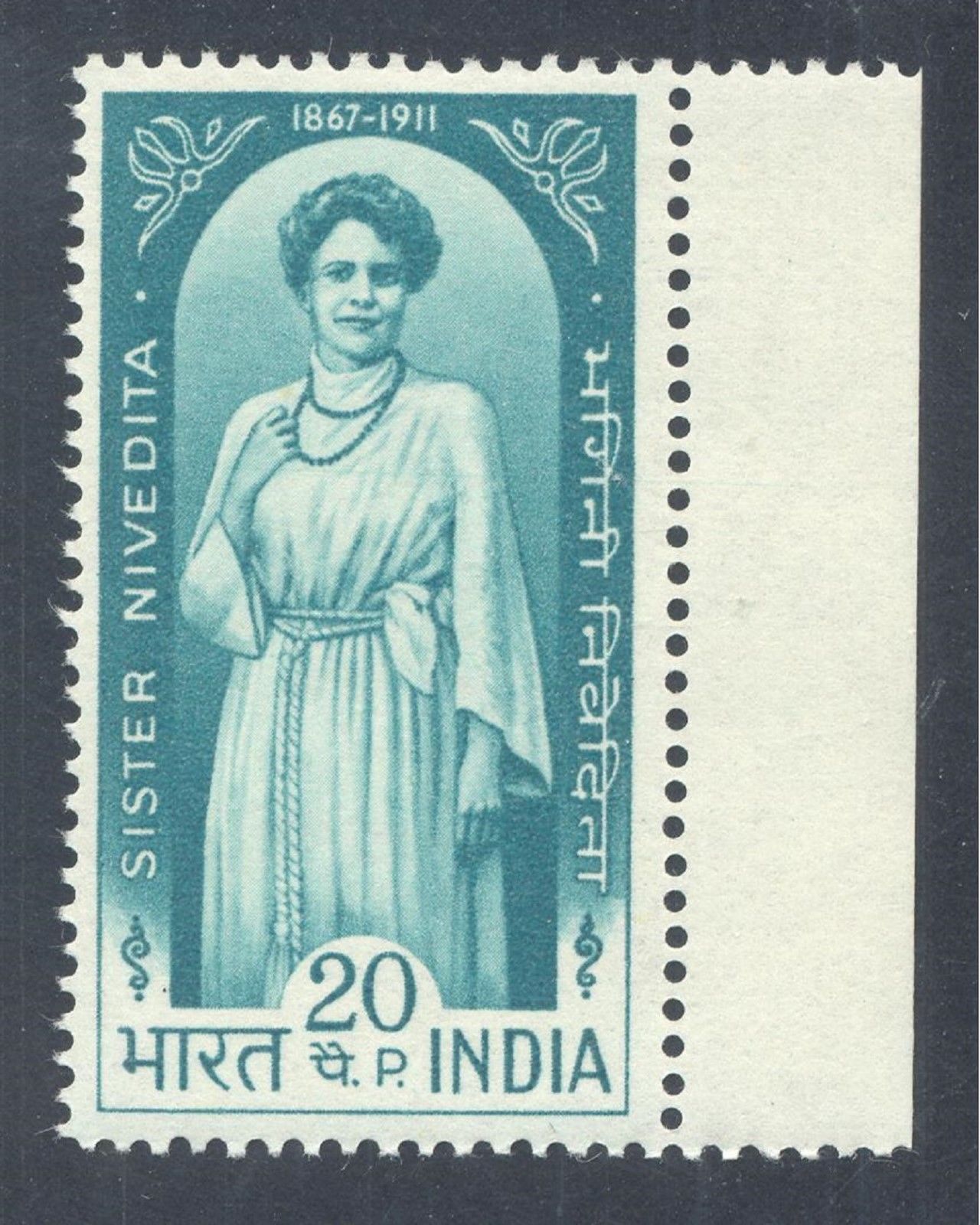 On the one-hundredth birth anniversary of Sister Nivedita in 1967, a stamp was issued in India in her honour.
A Fellowship for Research
A National Fellowship Award for Eminent Scholars is awarded annually in her name by the Indian Council of Social Science Research— The Sister Nivedita National Fellowship for Studies in Social Culture and Religious Tolerance.
A commemorative plaque in her native place
In December 2007, a blue commemorative plaque was erected at Scotch Street, Dungannon (Ireland) by the Ulster History Circle in her honour. The ceremony was attended by the representatives of the Indian Consulate, and South Tyrone Borough Council, Dungannon.
---
[bg_collapse view="link-inline" color="#ffb500″ expand_text="References" collapse_text="Hide" ]
Bharatshilpi Nandalal
by Panchanan Mondal
Sister Nivedita
by Pravrajika Atmaprana
Sister Nivedita and the Ideas of Revolution in Bengal
by Girijashankar Raychaudhury
Jorasankor Dharey
by Abanindranath Tagore
The Scientist and the Nun
(TheWire) [/bg_collapse]
Share your reaction!